Abstract
Aim: Some surgeons have been using some form of handheld robotics (HR) since liver resections began being done minimally invasively (MI); however, with the development of the complete robotic surgical systems (CRSS), they have lived in limbo neither being truly laparoscopic nor robotic. While doing the Study: International and Multi-centered on Minimally Invasive Liver Resections for colorectal metastases (CRLM), we decided to evaluate these two different degrees of robotics, specifically the HR group and the group undergoing a completely robotic (CR) approach.
Methods: Four international centers (one in France, one in Germany, one in Taiwan, and one in the United States of America) were asked to join a retrospective review of cases to compare short- and long-term outcomes after open, laparoscopic, and robotic liver resection for CRLMs. For this study, only patients who had either HR or CR liver resections were included. HR was defined as cases done with a robotically controlled camera holder and a powered stapling device. Only patients with ≤ 3 tumors that were ≤ 5 cm were included so that the preoperative characteristics of the two groups would be similar.
Results: In total, three centers did CR for CRLM (28 patients) and one center used HR (49 patients). MI resections were possible in 92.5% of patients when HR was used compared to 34.2% (22.6% laparoscopic, 11.5% CR) when centers used CRSS. Mean operating room times were significantly longer after CR compared to HR resections, 234 minvs. 290 min (P = 0.04). The morbidity and mortality rates were 4.1% and 2% after HR compared to 10.7% and 0% (P = NS), respectively. R0 resection rates and resection margins were 100% and 9.6 mm compared to 89.3% and 6.7 mm after HR vs. CR, respectively (P < 0.05). The estimated blood loss and length of stay were similar in both groups, 264 mL and 4.9 days vs. 227 mL and 6.8 days (P > 0.05). Overall and disease-free survival at one and two years were 100% and 89.4% after HR vs. 100% and 72.9% after CR (P > 0.05).
Conclusion: HR and CR liver resections have similar short- and long-term outcomes; however, when HR is used, over 90% of cases can be done MI compared to under 35% with CR. The added benefit of haptics and the ability for the operating surgeon to use hand assistance may account for this discrepancy. CRSS do not use haptics and surgeons must rely on visual cues; as robots become more autonomous, it may make more sense for computer engineers to work on the robot perceiving feedback and not the surgeon. HR may be the safest way to develop more autonomous actions in surgery and may yield the most benefits for patients by keeping the surgeon in the loop.
Keywords
Minimally invasive surgery, laparoscopy, liver resection, hepatectomy, robotic-assisted surgery, hepatic surgery, hepatobiliary, handheld robotics, complete surgical robotic system
INTRODUCTION
As early as 2002, surgeons began using complete robotic surgical systems (CRSS) for hepatectomy[1,2]. At around this time, surgeons divided into minimally invasive (MI) liver surgeons using standard laparoscopy, laparoscopy with handheld robotics (HR), or CRSS. The debate has continued as to whether robotic surgery should simply be considered a form of laparoscopy, or if it is a distinct technical entity[3]. Interestingly, the surgeons using HR were simply lumped into the laparoscopic group and excluded from the robotic one[4,5].
Liver resections have increasingly been done with MI techniques. In fact, since Gagner[6] performed the first laparoscopic liver resection in 1992, laparoscopy has become the gold standard for minor hepatectomies, mainly left-sided[6-9]. As experience grew, MI surgeons began performing major hepatectomies, including even those requiring the resection of neighboring organs and complex biliary reconstructions[10-18]. At the last consensus meeting held in Southampton in 2017, MI approaches were considered valid approaches for both minor and major hepatectomies[19]; moreover, the guidelines confirmed the oncological appropriateness of minimally invasive surgery in the management of both primary (especially in cirrhotic patients) and secondary lesions.
Just over 10 years after the first laparoscopic hepatectomy, surgeons began doing liver resections with CRSS (da Vinci, Intuitive Surgical, Sunnyvale, CA)[1,2]. Ultimately, when larger robotic companies purchased the rights of smaller robots, other companies came onto the market with even smaller handheld robotic devices that also enabled some robotically controlled manipulation[20-22], and even created HR surgical forceps and dissectors[23]. Over the last 15 years, handheld powered robotic stapling devices fitted with sensors have also been developed and used[24]. Despite varying degrees of robotic utilization among MI surgeons, currently, only patients using complete robotic (CR) platforms are considered as robotic cases. This is unfortunate, because this bias has pigeon-holed surgeons and engineers to focus only on CRSS and not truly explore all the potential benefits of smaller and more affordable handheld robots[3].
Multiple studies have shown clear advantages for patients when liver resections can be done MI. A recent meta-analysis of 2 randomized-controlled trials and 13 propensity score matched (PSM) trials even showed evidence suggesting a survival advantage for patients undergoing laparoscopic resection for colorectal liver metastases when compared to open resections[25]. However, the fact remains that the majority of hepatectomies are still done via open techniques at most, even specialized, centers. Although it is tempting to believe that there are indeed short- and long-term benefits to patients who are resected MI, the multiple potential problems with PSM, at the very least, raise the alarm that a significant degree of patient selection bias may be occurring when open is compared to MI hepatectomy[26].
Currently, most research now focuses on comparing which MI approach to liver resection is superior, laparoscopic or robotic, with very little research being done on how to increase the number of patients who can actually undergo MI liver resection, with one of the main differences between the two techniques being the lack of haptics during CR surgery. Despite the rise of artificial intelligence (AI) and the dream of autonomous surgery, it is unclear as to the ultimate value of haptics[27]. CRSS do not offer haptics and robotic surgeons must rely on visual clues. Theoretically, autonomous surgery would not require haptics as the surgical maneuvers would be autonomous and done via the robot and a computer interface. Certain CRSS are already able to offer haptics; however, the augmentation of surgeon's resting tremor makes the haptics useless, and this function is currently not activated on commercially available robots[28].
If the majority of liver resections are still being done via open techniques, which inherently has the best haptics, the question must be asked: why are more handheld robotic instruments that might be able to offer superior haptics not being increasingly utilized and developed? In an attempt to shed some light on this issue, we compared the results of a center using HR devices, specifically a robotically controlled laparoscope holder [Figure 1] and robotic gastrointestinal anastomosis (GIA) vascular staplers (Signia, Medtronic, Dublin, Ireland) [Figure 2], with those of groups using CR systems.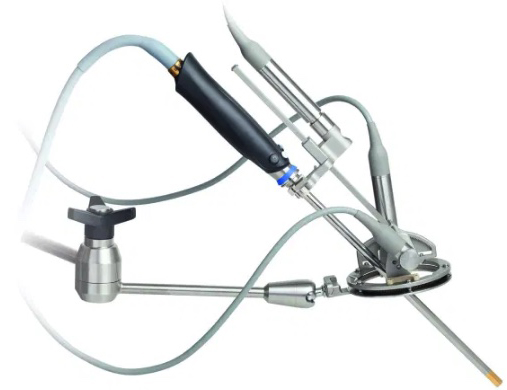 Figure 1. Video-endosKopy (ViKY), robotically controlled handheld laparoscope holder (ViKY, Endocontrol, Grenoble, France).
METHODS
We initiated a retrospective international multicenter study (Study: International Multi-center Minimally Invasive Liver Resection) analyzing outcomes after liver resection for colorectal liver metastases (CRLM). The primary endpoint was to assess the preoperative results between open and laparoscopic liver resection, and the results of that study will be reported elsewhere. Secondary endpoints included survival analysis. In this study, we compared centers that do hepatectomies using the CR vs. HR approach to see if any differences could be noted between these two varying degrees of robotics. In an effort to compare similar patients, only patients with ≤ 3 tumors and with no tumor measuring more than 5 cm were included in the final analysis.
Patients' characteristics, operative parameters, and follow-up outcomes were regularly updated. Indications for surgery included both benign and malignant disease, either primary or secondary. Contraindications to laparoscopy include closed angle glaucoma, intracranial hypertension, and severe lung disease. Because a robotically controlled laparoscope holder (Video endosKopY, Endocontrol, Grenoble, France) [Figure 1] and a powered handheld stapler with sensing technology [Figure 2] were used, the procedures were considered HR[21]. The term CR was reserved for procedures done with a CRSS such as the da Vinci (Intuitive Surgical, Inc., Sunnyvale, CA, USA) or Versius robots (Versius Robotics, CMR, Cambridge, UK). The technique of HR liver resection with the robotically controlled laparoscope holder[18,22,29-32] and the use of the powered vascular GIA stapler for liver resection was previously described[14,33].
The analysis was undertaken on an intention to treat basis. The data that support the findings of this study are available from the corresponding author upon reasonable request. The main endpoint of the study was the postoperative mortality and morbidity of all patients who had MI in the HR group as compared to liver resections done by the CR group. Patients done with hand assistance were also considered to be done minimally invasively. Secondary endpoints included comparison of operative parameters, length of hospital stay, and long-term survival. The matching criteria included age, sex, benign or malignant disease, and Anesthesiology Society of America status score. Written informed consent was obtained from all patients.
Preoperative embolization was obtained when an extended major hepatectomy was planned. Minor hepatectomy was defined as < 3 hepatic segments, major hepatectomy was defined as ≥ 3 hepatic segments but ≤ 4 hepatic segments, and extended hepatectomy was defined as ≥ 4 hepatic segments. Central hepatectomy was defined as the removal of hepatic segments 4, 5, and 8. Laparoscopic minor hepatectomy was usually performed via 3-4 trocars. Major and extended hepatectomies were performed with 5-6 trocars, usually < 1 handbreadth below the right costal margin. Parenchymal transection was done with energy devices and hemostasis was achieved with the laparoscopic bipolar device. Named vessels were transected with the laparoscopic vascular linear GIA stapler. The Dindo-Clavien classification system was used with major complications defined as greater than Grade 2[34].
Data analysis was performed using Social Science Statistics software (www.socscistatistics.com), and Prism 8: GraphPad software (https://www.graphpad.com/scientific-software/prism/) was used to generate Kaplan-Meier curves. Categorical data are expressed as percentages and quantitative data are presented as mean ± standard deviation with median and range. Data were analyzed by using the Mann-Whitney U-test for continuous variables and the Fisher exact test for categorical values. The Mantel-Cox test was used for the survival curves. Statistical significance was defined as P < 0.05.
RESULTS
From 2006 to 2019 at four international sites (in Germany, France, Taiwan, and the United States of America), liver resection for CRLM were done in a total of 430 patients. After exclusion criteria (size < 5 cm and 1-3 tumors) were met, the liver resections done for CRLM dropped to 289 (67.42%) patients via laparotomy, 65 (15.1%) patients via laparoscopy, 57 (13.3%) using HR, and 36 (8.4%) patients using CRSS. From November 2016 to September 2019, 28 hepatectomies meeting the exclusion criteria were done using CRSS at three different international centers (Germany, 12 patients; Taiwan, 9 patients; USA, 7 patients), and they were considered in the CR group. All three CR groups used the da Vinci robot (da Vinci, Intuitive Surgical, Sunnyvale, CA, USA). From November 2008 to April 2018, at the HR center, 63 liver resections were done for CRLM, of which 57 (90.1%) were done minimally invasively. Of these, 49 hepatectomies meeting exclusion criteria (size < 5 cm and 1-3 tumors) were identified, which were considered the HR group.
In total, 92.5% (49 patients) of liver resections for CRLM were done using robotic assistance and 7.5% (4 patients) were done via open techniques in the HR group. Of these, four (8.2%) patients required hand assistance [Table 1]. At the CR centers, 34.2% (83 patients) of liver resections were done MI over the respective time periods, specifically 11.5% robotically (28 patients) and 22.6% (55 patients) laparoscopically with 65.9% (160 patients) via laparotomy.
Table 1
Distribution of liver resection for colorectal liver metastases by the handheld robotic (HR) group compared to the complete robotic (CR) group done with the complete robotic surgical system. Cases are divided into open, laparoscopic, and robotic cases
| | | | | | | |
| --- | --- | --- | --- | --- | --- | --- |
| | Open | Lap | Robotic | Overall MIS | Total | P-value |
| Hand-held Robotic Group (HR) (%) | 4 (7.5) | 0 | 49 (92.5) | 49 (92.5) | 53 | < 0.001 |
| Complete Robotic Group (CR) (%) | 160 (65.9) | 55 (22.6) | 28 (11.5) | 83 (34.2) | 243 | |
There were no significant differences in any of the preoperative parameters studied [Table 2]. Tumors were evenly distributed between the two groups with 12 segmentectomies in the CR group comprising seven tumors in the anterior segments and five in the deep segments. A right or left hepatectomy was required in four patients, with nine left lateral segmentectomies being done in the CR group. This compares to segmentectomies being done in 23 patients in the HR group, with 16 in the anterior segments and 7 in the deep segments. A right hepatectomy was required in 16 patients, a left hepatectomy in 5 patients, and left lateral hepatectomies were done in 5 patients in the HR group. The lesions tended to be in the deeper segments in the HR group, but this did not achieve statistical significance (P = 0.064). The HR group tended to do more major resections, 42.9% vs. 21.4% , but this was not statistically significant (P = 0.08) [Table 3].
Table 2
Preoperative characteristics of patients undergoing liver resection for colorectal liver metastases with either handheld robotics (HR) or complete robotics (CR)
Handheld robotics (HR)
n = 49
Complete robotics (CR)
n = 28
P-value
Mean age (range)
63.0 (32-93)
60.8 (41-83)
0.226
Male:Female
29:20
15:13
0.641
ASA (%)
1=1
2=20
3=28
4=0
1=1
2=11
3=16
4=0
0.918
BMI kg/m2 (range)
28.7 (19.0-45.0)
26.7 (19.4-39.0)
0.254
Neoadjuvant chemotherapy (%)
34 (69.4)
19 (67.9)
1
Previous surgery
36 (73.5)
16 (57.1)
0.206
Cirrhosis (%)
1 (2.0%)
3 (10.7%)
0.134
PVE
0
0
1
Table 3
Liver-specific procedure and intraoperative results of patients undergoing liver resection for colorectal metastases with either handheld robotics (HR) or complete robotics (CR)
Procedure
Handheld robotics (HR)
n = 49
Complete robotics (CR)
n = 28
P-value
Major resection (%)
21 (42.9)
6 (21.4)
0.082
Minor resection (%)
28 (57.1)
22 (78.6)
Conversion (%)
1 (2.0)
2 (7.1)
0.550
Mean EBL mL (range)
264.3 (30-3000)
226.9 (0-850)
0.764
Transfusions (%)
1 (2.0%)
2 (7.1)
0.550
Mean OR time (range)
234.4 (60-386)
289.5 (107-522)
0.040
Pringle maneuver (%)
2 (4.1)
9 (32.1)
0.001
The Pringle maneuver was used significantly more in the CR group, 4.1% vs. 32.1%, respectively (P < 0.001), but the mean estimated blood was not significantly different in either group, 264 mL (HR) vs. 227 mL (CR), respectively (P > 0.05) [Table 3]. The size and number of tumors removed were not significantly different between the groups, but the HR group had significantly more negative resection margins, 100% vs. 89.3%, respectively (P = 0.049), and a significantly larger resection margin, 9.6 mm vs. 6.7 mm, respectively (P = 0.008). Although the length of stay tended to be longer after CR hepatectomy, 4.9 days vs. 6.8 days, this was not statistically significant (P = 0.089). Overall survival at one and two years and median survival were 100%, 89.4%, and 39 months after HR vs. 100%, 72.9%, and 34 months after CR, respectively (P = 0.055)[Figure 3]. Disease-free survival at one and two years and median survival equaled 75.7%, 48.2%. and 23 months vs. 70.1%, 22.6%. and 18 months after HR and CR, respectively (P = 0.403)[Figure 4].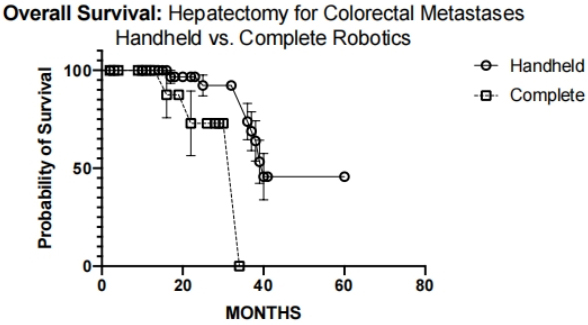 Figure 3. Overall survival of patients undergoing liver resection for colorectal metastases with either handheld robotics (HR) or complete robotics (CR).
DISCUSSION
When we compared cases done with HR vs. CR, similar to other studies, we found that cases done with the CR approach were statistically longer than after HR [Table 3], but estimated blood loss was not higher as in most studies[35]. It is unclear if more complex liver resections will one day be done by the CR approach as suggested by this German study[36], but what is clear is that whatever approach a surgeon is most comfortable with is clearly better for outcomes in the short term[37]. Conversion, morbidity, mortality, and reoperation rates were similar between the two groups and well within the reported literature ranges [Table 4][38]. The R0 resection rate and margin distance were statistically better in the HR group (all P < 0.05), but this could be explained by the fact that the results from the CR group are rather early in their experience, with only 28 cases of CR hepatectomy at three centers compared to almost twice that by a single surgeon [Table 5]. The issue of whether laparoscopic or CR approaches have superior resection margins is currently unknown, with conflicting results[39]. Notably, although LOS tended to be shorter after HR, this was not statistically significant when compared to CR resections (P = 0.09) [Table 5]. An analysis of the learning curve of these patients done via handheld robotic techniques has already been published and found better learning curves when surgeons undergo formal training for these techniques before the initiation of their independent careers[38].
Table 4
Postoperative morbidity and mortality of patients undergoing liver resection for colorectal metastases with either handheld robotics (HR) or complete robotics (CR)
Handheld robotics (HR)
n = 49
Complete robotics (CR)
n = 28
P-value
Mortality 30-day (%)
1 (2.0)
0
1
Mortality 90-day (%)
2 (4.1)
0
0.531
Re-operation
1 (2.0)
0
1
Dindo-clavien 30-day
Bile leak
1* (2.0)
0
1
I-II
0
1 (3.6)
0.372
III-V (%)
2* (4.1)
2 (7.1)
0.619
All (%)
2 (4.1)
3 (10.7)
0.347
Table 5
Postoperative outcomes and pathological characteristics of patients undergoing liver resection for colorectal metastases with either handheld robotics (HR) or complete robotics (CR)
| | | | |
| --- | --- | --- | --- |
| Tumor size (cm) (range) | 3.0 (1.0-5.0) | 2.5 (0.6-4.5) | 0.054 |
| No. of tumors (range) | 1.3 (1-3) | 1.4 (1-3) | 0.509 |
| Resection | | | |
| R0 (%) | 49 (100) | 25 (89.3) | 0.049 |
| R1 | 0 | 3 (10.7) | |
| R2 | 0 | 0 | |
| Resection margin (mm) (range) | 9.6 (1-30) | 6.7 (0-40) | 0.008 |
| Mean LOS (range) | 4.9 (1-17) | 6.8 (0-23) | 0.089 |
MI liver resection has numerous potential advantages ranging from decreased blood loss and hospital stay in the short term to potentially improved survival in the long term[25]. The reality is, however, that only highly selected cases are removed with MI techniques. At the same time, focus has shifted to the utilization of CRSS to see if one of these expensive platforms can have any real advantages for patients with pathologies such as CRLM. Although a survival benefit was suggested from the Kaplan-Meier curves, this was not highlighted due to the large differences in follow-up between the two groups, and we simply made the assumption that, at worst, the HR and CR group had similar overall and disease-free survival.
What interested us the most was why and how could the vast majority of cases in the HR group be done minimally invasively [Table 1], and this led us to the most obvious conclusion: haptics. Most robotic surgeons who use the complete robotic system use visual cues and, in general, do not believe that haptics are necessary. On the contrary, surgeons who do not use the CR system state that the lack of haptics is one of the main reasons for not adopting this technology. More recently, surgeons have begun to realize that some devices already perform some autonomous actions and that the exponential growth of AI will only enhance the growth and evolution of more autonomous surgical actions[28]. Perhaps more importantly, our findings suggest that there is an inherent contradiction between the CRSS and haptics. If the logical ultimate goal of the CRSS is increasing autonomy, is haptics going to ultimately really be that important[27]?
An excellent review article was recently published by a group of engineers that touched upon these points and also questioned the ultimate goal of increasing autonomy in surgery[40]. The authors expressed concern with the all or nothing attitude regarding autonomy in surgery and noted a concerning lack of literature regarding this topic. They specifically questioned why current trends in robotic development are focused on CRSS, and how it might be best if the surgeon were "kept in the loop" and not excluded from the equation[40]. Perhaps the best way to accomplish this would be through handheld robotic instruments (Jaimy, Endocontrol, Grenoble, France) [Figure 5].

Figure 5. Robotically controlled handheld surgical dissector/needle driver (Jaimy, Endocontrol, Grenoble, France).
However, the question remains: why was the HR surgeon able to do the vast majority of cases minimally invasively? There is little question that a robotically controlled laparoscope holder that provides a steady image can decrease eye fatigue and potentially enable MI surgeons to do more complex procedures because of the increased control. The addition of having an assistant with two hands instead of one has obvious potential advantages, but the decreased fatigue of this assistant also needs to be taken into account. Once commercially available AI autonomous laparoscope tracking is available, this will also decrease stress and fatigue of the operating team. The potential advantages of operating on a completely stable image also has potential benefits in decreased inadvertent intra-abdominal injury with the possibility of decreased intraoperative and postoperative complications.
The robotically controlled GIA staplers also have the ability to decrease stress to the surgeon and delivery of a more precise deployment of the staple lines. The sensor on the device will also prevent stapling of tissue that is too thick, potentially reducing complications such as bleeding and bile leak. Conversely, this technology could also be preventing the stapling of tissue that is too thin, similarly decreasing the risk of intraoperative and postoperative complications. In a recent animal study, powered stapled anastomoses were found to have a higher burst pressure when compared to conventional stapling techniques[32,33,41]. On the surface, these advantages may appear to be minor benefits; nonetheless, our data clearly show that a potential benefit to HR liver resection in increasing the number of resections that can be done MI may exist, and this at least warrants further exploration. Although not utilized in our study, another potential advantage to the HR approach is the ability to do hand-assisted approaches. Many robotic surgeons will state that they do not need to utilize hand assistance, and in carefully selected cases we would also agree, but if the utilization of this technique enables more patients to undergo MI liver resection why would one not use this option[42]?
What about other examples of handheld "smart" devices or examples of weak AI? As opposed to strong AI where the device acts more independently, weak AI has limited sensing ability and limited autonomy. The above-mentioned handheld devices are good examples of weak AI. Several other interventional and surgical specialties have begun using intelligent handheld robotic instruments with weak AI. Automated venous puncture devices using robotics, ultrasound, and computer vision (CV) have been developed that show similar success rates as with humans[43]. In addition to ultrasound, acoustic waves have also been harnessed to give MI surgeons the ability to perceive different tissues, and they may be utilized to permit improved surgical dissection[44]. Recent exponential advances in machine learning, deep learning, and CV make this field of robotics particularly interesting for dissection and again raise concerns that our obsession with haptics may be ill-advised and that many other avenues of AI should also be explored[45].
Tremor stabilizing devices have been created for eye surgery[46,47]. As mentioned, complete robotic systems already have the ability to provide the surgeon haptics and have some form of tremor dampening; however, due to the need for this dampening, haptics in their current form are bothersome, and this feature is essentially unusable. The problems are that a filter needs to be used to compensate for the physiological resting tremor that the surgeons have and the phase delay inherent in sensors; their interaction with the filtering software is too slow with current technology; and the time that it takes to interpret the data delays the reaction time too much to make this a viable form of feedback[48].
Notably, haptics with force feedback have been shown to improve surgical trainees when they learn MI techniques on simulators using virtual reality (VR), and they are believed to reduce surgical errors and potentially the rate of complications[49]. Researchers have actually developed techniques to account for tremor and use predictive movement algorithms to provide some form of haptics for surgeons using technology that was originally devised to intervene in cases of cyberattacks during surgery, but this technology has not yet been validated in patients[50]. Some groups have begun using a bimodal vibrotactile system that uses AI to give surgeons information feedback on structures that they are palpating using a specialized sensor. As opposed to haptics while using the actual surgical instruments, the idea is to use a sensing probe during part of the operation to help with tissue identification[51]. Although an interesting work around, switching instruments for a sensing probe and then back to surgical instruments will certainly add time to operations.
Groups trying to provide haptics of robotic surgical instruments have been able to create some form of haptics, but only based on estimations. In this scenario, a force sensor is not used at the end effector of the surgical instrument, but an estimation of forces is done by calculating from the tension of the wires in the robotic instruments. When trainees were given visual cues and this type of haptics, they preferred it to using only visual cues during surgical maneuvers. Although interesting, it is too early to tell if an estimation of haptics alone will be enough during actual surgery[52].
HR devices with haptics have been developed for eye surgery using fiber Bragg grating sensors in optical fibers. These devices are able to detect and perceive forces from three degrees of freedom. Unlike laparoscopic surgery, microsurgery involves forces that are imperceptible to humans, and because of this the learning curve for eye surgery can be much longer, taking up to 10 years to master certain procedures. Forces only measure 1 N in eye surgery, which is several folds less than that seen in laparoscopy, and when using this technology researchers were able to measure down to forces of a millinewton[53]. This perhaps explains why eye surgeons have embraced HR more so than general surgeons.
Methods to improve surgical gestures such as tracing in eye microsurgery have also been developed using active handheld manipulators, and they have the potential to improve surgical dissection itself[54]. Additional benefits of HR also include decreased cost and improved workflow times due to the absence of significant setup times[53,55]. Fortunately, some groups have begun developing HR surgical dissecting instruments, as well as studying them in VR simulators[56-58].
Other examples of intelligent HR instruments can be found in interventional radiology, orthopedics, neurosurgery, and endoscopy. Automatic guidance systems have been developed for percutaneous needle placements to improve biopsies and interventional procedures such as treatment of endo-leaks and for ablations[59]. Orthopedic surgeons have used HR for arthroplasty enabling better pin placement for years[60,61]. In neurosurgery, small robots have been attached to stereotaxic frames to permit superior computer automated aspiration of brain tissue in animal models, and HR has been used to perform craniotomy with submillimeter accuracy and a decreased risk of complications when compared to standard robots[62]. Technology has even been developed to give haptic feedback during flexible endoscopy[63].
The innovation seen in other surgical and interventional disciplines begs the question: why is there not more of an emphasis on researching handheld robotic or artificially intelligent devices or pushing them in general surgery? With such an emphasis being placed on the CRSS one wonders if hospital systems will have the economic ability to purchase these smaller robots. Furthermore, most hospitals around the world cannot afford the CRSS, this is effectively creating a 2-tiered system where most poorer hospitals cannot afford robotics. Notably, the latest da Vinci Xi system costs approximately 2 million dollars while the ViKY robotically controlled laparoscope holder costs closer to $60,000. Possibly by diverging research dollars into smaller HR we can enable more people to benefit from devices enhanced by computers and AI.
Conclusion
Whether one type of the MI approach used is superior to another will be answered as more centers gain expertise with laparoscopic and robotic liver resection. HR has the potential advantage of maintaining haptics, which could increase the rate of patients who can undergo MI hepatectomy, with the added benefit of being more cost-effective and accessible. A potential drawback of HR is the size constraints limiting technological advancements. Regardless, HR may enable surgeons to stay in the loop by maintaining haptics and result in the development of autonomous actions in surgery more safely and ultimately more quickly than via CRSS. It is unclear whether the CR approach will ever need haptics, especially since the CR system may evolve to autonomous surgery with the robot itself being the device that needs to perceive haptics and not the operating surgeon.
DECLARATIONS
Authors' contributions
Drafting of manuscript and editing: Gumbs AA, Croner R
Collecting of data, statistics and interpretation: Gumbs AA, Abu-Hilal M, Tsai TJ, Starker L, Chouillard E, Croner R
Editing and provided administrative support: Gumbs AA, Abu-Hilal M, Tsai TJ, Starker L, Chouillard E, Croner R
Availability of data and materials
Data will be made available upon reasonable request.
Financial support and sponsorship
None.
Conflicts of interest
All authors declared that there are no conflicts of interest.
Ethical approval and consent to participate
Retrospective study, informed consent obtained on all patients prior to surgery.
Consent for publication
Not applicable.
Copyright
© The Author(s) 2021.
Cite This Article
Gumbs AA, Abu-Hilal M, Tsai TJ, Starker L, Chouillard E, Croner R. Keeping surgeons in the loop: are handheld robotics the best path towards more autonomous actions? (A comparison of complete vs. handheld robotic hepatectomy for colorectal liver metastases). Art Int Surg 2021;1:38-51. http://dx.doi.org/10.20517/ais.2021.07